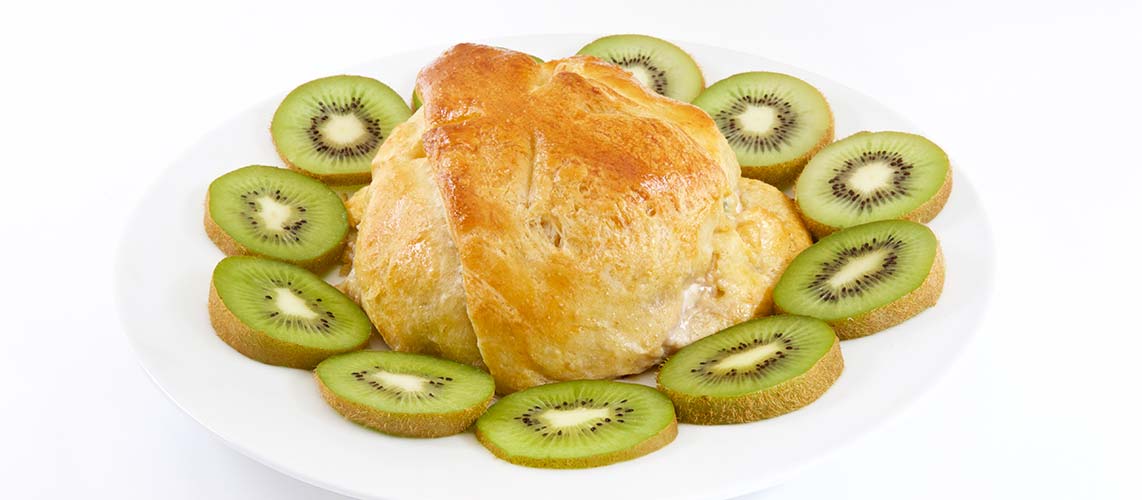 Kiwi Walnut Baked Brie
The perfect party appetizer with your favorite fresh fruit! It doesn't get easier or more delicious than this!
Directions
Pre heat oven to 350° F.
Place thawed pastry sheet in round pie dish, 9" dish is an appropriate size. (Pastry sheet should have adequate flour on it already so it does not stick to the dish. You can spray bottom of dish with a bit of olive oil if desired). Place brie round in the middle of the pastry sheet so you have dough laying in dish and brie round placed on top of the dough in the center; set aside.
Slice KiwiStar Kiwis in half on cutting board and scoop fruit out with small spoon (discard kiwi skin). Chop KiwStar Kiwi into medium pieces and squash fruit pieces lightly with back of spoon. Then place chopped walnuts and brown sugar over KiwiStar Kiwi and mix together. Place Kiwi walnut mixture on top of brie round. Bring the edges of the pastry dough over the brie to enclose the kiwi mixture and cheese completely.
If you want the brie to be a bit shiny on top, at this time you can brush a bit of beaten egg over the pastry dough. Make 3 small ½ inch slices with a knife on top of enclosed brie. Then place brie in the oven for 25-30 minutes, until the brie is golden brown all around. Slice and serve!
Ingredients
1 frozen puff pastry sheet, (thawed)
2 ripe KiwiStar Kiwis
1 brie round
2 tablespoons walnuts, chopped
1 teaspoon brown sugar
1 beaten egg (if you want the top of the brie to be a bit shiny
Kiwi Walnut Baked Brie