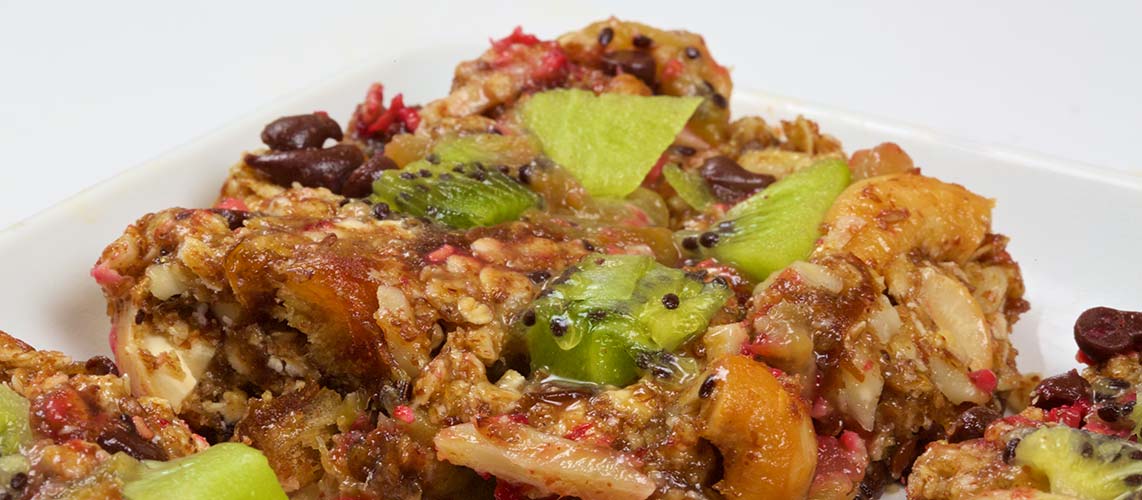 Kiwi Energy Bars
Directions
Pre heat oven to 350°F. Peel and chop KiwiStar Kiwis, spray baking sheet with cooking spray and place chopped Kiwi on baking sheet. Bake for 30 minutes. (Set aside to cool)
Chop dates into small pieces and place into a medium mixing bowl with almonds, cashews, oats, and flax seeds. Lightly mix.
Place nut butter and honey in a microwave safe bowl. Microwave for 20 seconds and mix until smooth.
Pour almond butter mix into your medium mixing bowl and mix all ingredients together by hand. Try to evenly distribute ingredients and mash dates a bit with your hands while mixing (this can get sticky). Mix in kiwi now, and chocolate chips if you are using them.
Place bar mix into baking dish and press down evenly and firmly. Cover baking dish and place in freezer for 1 hour. Remove from freezer, cut into bars and enjoy!
Ingredients
1 cup dates, dried
1 cup dates, dried
1/4 cup flax seeds
1/2 cup cashews, coarsely chopped or halved
1/4 cup almonds, slivered
1/4 cup honey
1/4 cup almond butter, all natural (can also use peanut butter)
3 KiwiStar Kiwis, chopped
1/4 cup of chocolate chips or carob chips (optional)
Cooking spray
8×8 Glass baking dish
Kiwi Energy Bars