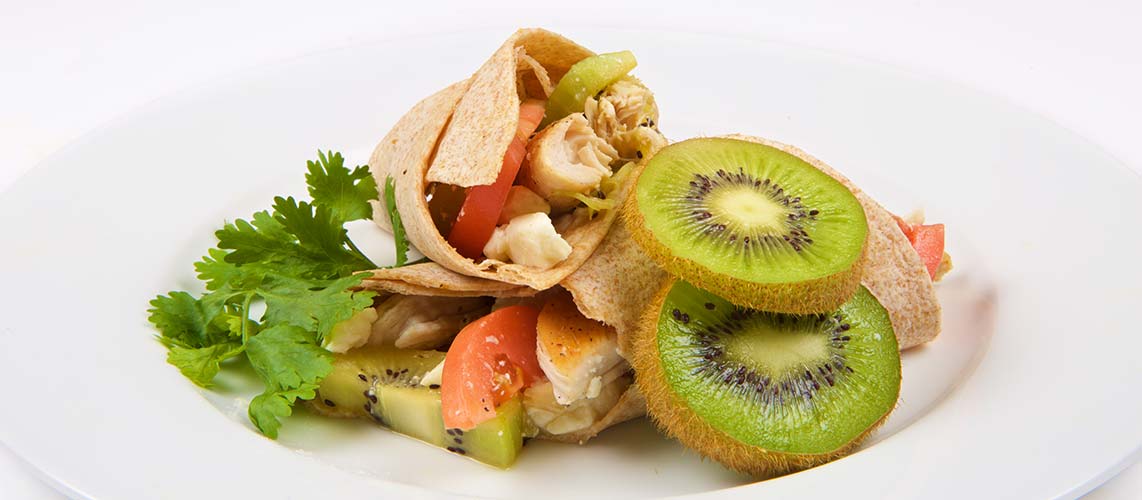 Chicken Wrap with Seared Kiwi and Feta
Directions
Peel and slice KiwiStar Kiwi into ¼ inch thick round slices, set aside.
Heat a small sauté pan over medium to high heat. Sprinkle a small amount of salt and black pepper on chicken breast (both sides). Place ½ tablespoon of olive oil on heated pan followed by chicken breast, cook chicken approximately 4 minutes on each side (depending on thickness). Half way through cooking sprinkle cumin on each side of the chicken breast and continue to cook. Make sure to cut into chicken breast to ensure it is completely cooked through. Slice chicken into strips and set aside.
Place remaining ½ tablespoon of olive oil in pan over medium heat. Sear KiwiStar Kiwi slices on pan and flip kiwi so each side browns a small amount. Remove from pan and set aside.
Place sliced chicken, seared KiwiStar Kiwi, tomato and feta on whole wheat wrap, roll up and enjoy!
*This wrap would pair perfectly with some Kiwi Vinaigrette drizzled over the top!
Ingredients
4 oz. chicken breast
1 KiwiStar Kiwi
2 oz. feta cheese, reduced fat
1/2 small roma tomato, chopped
1 whole wheat wrap
1 tablespoon of olive oil
Salt — to taste
Freshly ground black pepper — to taste
Cumin — to taste
Chicken Wrap with Seared Kiwi and Feta